#10yearchallenge
Posted on 30 January 2019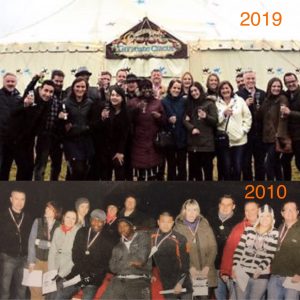 Have you overcome your fear of old photos? Well, now's the time! Most of us cringe at the thought of sharing selfies from what seems like a happily forgotten past of wardrobe horrors, yet today, we're relishing in the #10yearchallenge. Instead of burning unforgivable pics, we're given the opportunity to be proud of who we were and present the world with who we are. Change is something to be celebrated and with that in mind, we just had to get in on the fun… Here's thestudio's #10yearchallenge!
Who would've thought it…?
Let's set the scene, in 2009 thestudio would have only been three! In our modest beginnings, thestudio consisted of one venue: Birmingham. Our humble headquarters, fondly referred to Mission Control could welcome you to just 10 meeting spaces… At this moment in time, our sights were firmly set on Manchester and establishing a second home… Where were you in 2009?
Fast forward to 2019…
A lot has happened since 2009, some of which as a fellow studio goer you might already know! Count how many studio facts you knew and wow us by tweeting the number @studiovenues…
More venues! 4 in total in the cultural hearts of Birmingham, Manchester, Leeds and Glasgow
Birmingham is our largest venue by far! Encompassing 4 floors and a secret library!
Conscious effort to help the local communities in the cities we call home by partnering with local charities & not for profits – Let's Feed Brum, Foodinate, Crisis, Wood Street Mission.
Planning for studio family fun day at Gifford's circus in the Cotswolds
Who needs business cards? Save the bees by planting seeds! New initiative to replace business card with informative seed packets
GDPR won't stop us! Reconnecting thestudio family via a database to offer exclusive treats
Same dream, new team! Our mission statement of customer first will never change
Our hot vegetarian buffet choice is now always vegan and one of the two options (meat/veg) are always gluten free
thestudio's has its own cook book: BALANCE, approved by the NDR and totally not for profit
What's the plan Stan? 2019 – 10 years on…
The New Year brings with it a call of reinvention, a time to applaud past achievements and another chance to dream big!
As always we ask you to stick with us and watch this space because this is going to be an exciting year! p.s we hope you enjoyed our #10yearchallenge!