because all of the small things we do make a big difference…
The environment and sustainability is very important to thestudio and we are committed to minimising our impact on the environment and improving our sustainability practices, however small, wherever possible.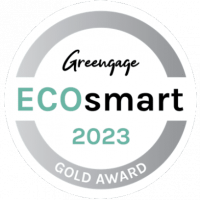 Greengage ECOsmart
To support our ambition to becoming as sustainable as possible we are pleased to have successfully completed the Greengage Ecosmart accreditation and are delighted to have achieved a GOLD rating across all four locations.
Ecosmart is an industry recognised standard which will help us to continue to navigate on our green journey and provide you with the re-assurance that sustainability will always be at the heart of your event and at the forefront of our minds.
We recognise that what we can do to support our commitment evolves over time and as such we know we are on an ongoing journey of continual improvement across all of our venues, understanding our journey may never end! Here are just a few things of what we do across our business:
reuse and recycle
we will ensure only reusable and recyclable items are used in our day delegate or any other packages we offer
responsible food
our food is responsibly sourced, local where possible and more than 50% plant based. any spare food is offered to those in need including through our relationships with organisations such as Inside-2-Out and Too Good to Go
we bottle our water
we bottle our own still and sparkling water on site using reusable bottles, saving thousands of glass bottles per year from waste and transportation
flexible working for our teams
we have a flexible working scheme allowing for home working where possible to reduce travel
renewable energy
we are committed to renewable energy including using a 100% renewable electricity supplier
reducing energy consumption
we are committed to the ongoing reduction of energy consumption through our renewal scheme, investing in more and more energy efficient equipment
promoting public transport
we champion the use of public transport both for our teams and guests by ensuring all of our venues are within easy walking distance of major public transport hubs
and the use of two wheels!
for those that want to go that bit further we also offer bicycle racks and storage to guests and staff in all locations
want to know more?
Get the most up to date run down of all of our environmental and sustainable practices by downloading our full environmental and sustainability policy here