5 reasons you can have a Happy New Year with thestudio
Posted on 09 January 2023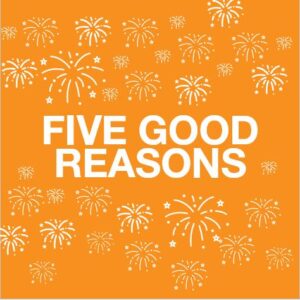 With 2023 firmly upon us we're sure your attention has now turned to your events programme for the next 12 months. If you're still unsure about what venue is for you we're confident have a little read on for 5 very good reasons you can have a Happy New Year with thestudio…
Fresh, modern and SUSTAINABLE venues
If your looking for a fresh, modern space look no further. Our bright meeting spaces across all of our venues feature a contemporary style, natural daylight and we're proud to hold the ECOSmart GOLD venue award in each of our 4 locations, so you can rest assured that no matter where you hold your next event we're putting sustainability and the environment at the very heart of your event.
We were delighted (but not surprised!) when late last year not one but TWO of our team members were named on the 2022 miaList, the industry awards recognising individual excellence. These team members represent our entire team and have proactively and positively adopted our mission statement of 'Customer First' meaning no matter where you place your event with us you will be well looked after.
Sparkling client satisfaction
Don't just take our word for it. We care about our clients and take our 'Customer First' mission statement seriously. So it's important to us that our clients let us know how we've done. That's why we ask all of our clients how we've done after every booking and throughout 2022 our clients scored us on average a 9/10 on our own post event feedback surveys. If that's not enough for you we're rated on average 4.4/5 across all of our location on Google Reviews based on over 1,000 reviews too! This is made up of reviews of our clients and their guests experience with us.
One of the things our clients and guests love the most about our venues is our food. Let's not pretend, it doesn't matter how important and memorable your event is, your guests will ALWAYS remember the food! We LOVE our food and continually seek to improve our offer aiming to wow our guests on each and every visit. It's one of our top rated feedback items so we know we're doing something right! All of our food is freshly prepared on site and we design our menus based on seasonality, using local suppliers where possible to ensure provenance and reduced food miles.
When it comes to tech we focus on getting the simple things right. For example we're proud of offering not just FREE Wi-Fi but GREAT Wi-Fi too, so you know you will get a great robust connection every time.
But before you even get here we're determined to make your booking process as simple as possible. So if you're organising a small meeting you can book with us online now up to 30 days in advance.
Not just that, we're continually investing in the technology in our venues to ensure you have access to all of the latest tools you need. We concentrate on providing the latest user-friendly equipment, making your tech journey with as simple and easy as possible! So if it's extra microphones and screens, dedicated tech support, video conferencing or virtual event services you need we've got you covered and will take care of everything for you if you wish.
If it all sounds good to you and you would like to know more or make your 2023 booking enquiry with us give us a call on 0800 028 6694, send us an enquiry online here or book online here.