Happy Pancake Day…
Posted on 05 March 2019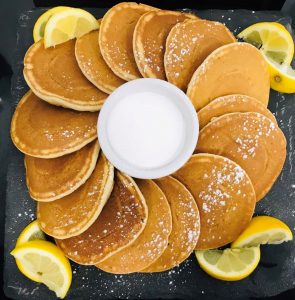 To "give up" – cease making an effort; admit defeat.
Those who have stepped into any one of our four venues or met any of our team will know that "giving up" is not a phrase we like to take lightly here at thestudio. We make every effort to not view any task as too big, just a new challenge to embrace… However, at this time of year giving up is given a whole new meaning, with some doing it for different reasons to others…
Lent…
Lent is a 40-day period taking place around Easter, starting this year from the 6th March and ending on the 18th April. This is a Christian celebration, followers will fast from food and festivities to recreate the sacrifice of Jesus and time in the dessert.
Only a small amount of people now fast for the whole 40 days, instead some choose a favourite snack or bad habit to refrain from during this time. We all like to test our will power from time to time!
Indulge yourself…
Returning visitors will know we don't like to hold back in feeding up our guests with a sweet treat here and there. We have even more opportunity to do just that recently, as today we have put out our pancake stations with the pick of your favourite toppings.
Our Spring treats also kick off to a flying start this week including a choice of Victoria sponge cakes, chocolate mini eggs and delicious hot toasted hot cross buns…
We have also made sure to include some little less indulgent treats; our bircher our pots and freshly sliced fruit platters.
I'd give up cake, but I'm no quitter …
Its been fascinating to find out what some of our team are going to try to "give up" for the next 40 days …
• Our Sales Director Oli wants to give up beer (and as he says now it's written in black and white there's no going back!)
• Our Sales & Revenue Manager Mandy is vowing to give up bread, saying she would happily eat it with every meal! However, she is going on holiday in the middle so may have a cheeky cheat day now and then…
• One of our Co-founders Emma, said she is going to give up Kale, she likes it a lot, but thinks she should be able to live without it until Easter Sunday !!
Let there be light…
Whether you choose to take part in Lent or not, in Old English the word means 'lengthen' reminding us that this time of year also means longer days. Hallelujah!
Written by: Rachel Robinson
Edited by: Emma Jennings