Avoid getting hot under the collar this summer…
Posted on 05 July 2019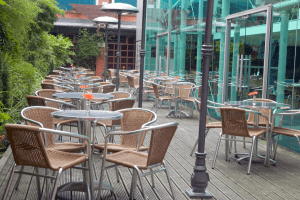 It's finally here, the British summer has decided to make an appearance halfway through the year. Better late than never we say! Before we strut our stuff in shorts and add cocktail umbrellas to all our cold drinks, there is one hurdle to jump…
We spend a good portion of our lives dedicated to our careers which usually means business attire! Whilst presentation is everything, being suited and booted often leads us to feeling hot under the collar. Despite retiring your blazer to your chair back, heat can be a problem.
So how would you keep your guests from falling asleep in your events? Read on for our top tips for keeping your team cool and engaged this summer!
1 – Feel that breeze! Let's be honest, no one wants to be confined to an office space for the whole day. Not much has changed from those long hot schooldays spent peering out the window wishing you were outside. That's why it's important to have the best of both worlds. Choose an event venue that offers an outdoor area where guests can stretch their legs and get that all important dose of vitamin D. It'll make a huge difference to their outlook and concentration.
2 – Avoid stuffy rooms… Open the windows! General ventilation is a blessing in hot weather conditions. Making sure there is a flow of air will have a significant effect on your guests' comfort. How to make sure the venue offers exactly what you need? Getting a first-hand perspective of what you've booked really helps, book in to visit the event space you've booked!
3 – Ice cream! Everyone loves surprises, especially ones involving food. Refresh your guests by treating them to ice cream. It's a great trick that'll offer some refuge from the heat and a much-needed sugar boost! Rest assured ice cream isn't the only option, how about: cool fruit kebabs, individual pots of sorbet, smoothies, jugs of iced tea or even hire in a Slushie machine! The possibilities are endless… Check with your events space what they could offer.
4 – Engage your guests… Visual, auditory, reading/writing, and kinesthetic, keeping different types of learners engaged in the baking heat is a challenge to say the least! Our solution? Try having ice breaker style activities dotted throughout your event. Three short 5 minute activities will help refocus your guests. Using lightly competitive games, quizzes or puzzles alongside your event topic will make the information more memorable. Alternatively, you could book an external company through your venue who offer fun team building exercises!
5 – Hydration breaks… We all respond to heat differently, some of us relish in the inferno whilst others recoil at the thought of being hot. One sure fire way to douse that flame is to incorporate hydration breaks into your event. These little breathers will help the day keep pace and allows each individual to regulate their own body temperature. After-all, water is the elixir of life!
We hope our summer suggestions will help you in your events. Tweet us your cool ideas @studiovenues.
Written by: Jyoti Banga