Behind the Scenes @thestudio
Posted on 24 February 2017
Guest blog from Bea Peck …
Day 1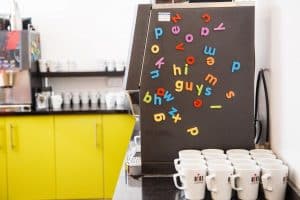 It's 8.50 on Monday morning, the first day of my work experience @thestudio, ¼ of my body weight is currently nerves, another ¼ coffee and the other ½ undeniable excitement. I suppose I should introduce myself – Hi, my name is Bea. I'm 17 and currently studying my first year of A levels but more importantly, I just spent a week @thestudio to learn how such a successful events company is run day to day.
Rumour has it, business people are scary. They're crazy caffeine fuelled robots who type numbers into a computer nine hours a day – but not @thestudio. I was met with nothing other than a smile.
As I toured the building, I couldn't help but grin at all thestudios' little quirks; the bright and engaging décor, the goldfish on the second floor, even the toilet signs could lighten your Monday morning blues.
By 11am I had conquered my fear of the phone lines, it was until this week I had never transferred a call… embarrassing but true! Jyoti navigated me through thestudio's social media pages, blogs and website, teaching me how keeping clients informed with thestudio's recent activities or even gaining a twitter follower are all important aspects of establishing solid relationships with clients in this increasingly digital age.
Day 2
Today I sat with Pedro on the second floor reception, greeting puzzled looking guests and showing them to their rooms. Once again I manned the phone lines, discovering the talent of job juggling that the not-so-scary business people @thestudio perform so admirably. Here, I gained experience both behind the desk but also good customer service skills that I can transfer to any workplace in the future.
Day 3
Landed in Mission Control, observing how the sales operations are undertaken, the next step after my now very well practised phone transfers. The team were more than happy to show me their different roles, from facilitating new enquires to finalising contracts.
Day 4
With hundreds of guests to accommodate in one day alone, I was surprised I still had soles on the bottoms of my shoes by the end of my shift! The operations team are great fun and showed me how the final stage to the business is carried out: the event itself. I learnt how to multi-think about different rooms with different delegate numbers and catering requirements whilst keeping an eye on the clock. With more customer interactions too, I was able to build upon skills I had picked up from reception earlier on in the week and see first-hand how high quality service is of the upmost importance to thestudio.
Through the happy atmosphere, it is clear to see how hardworking thestudio team is and how passionate everybody is about the work that they do. This has really inspired me to study hard and hopefully one day be able to work in a successful business environment too.
I just want to say a huge thank you to everyone at thestudio who have made this week so insightful into the world of events management and super fun too… way better than school!