Boldly Go Live with thestudio…
Posted on 11 May 2021
It's been well over a year now since we've been able to all sit together 'normally' in one room so you couldn't blame anyone for forgetting what a totally live event feels like. With all the benefits they can bring us and with live events finally confirmed to restart on the 17th May now is the time we start to really think hard about returning to face to face booking in their entirety.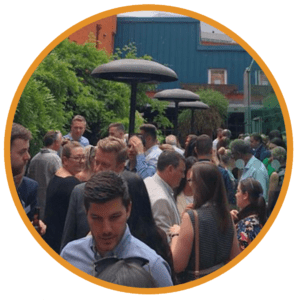 Live events and non–essential face to face meetings and training were initially stopped with good reason. So why should we consider a return to running these kinds of events now?  
The answers are clear and definitive. Face to face meetings, training and events are simply more effective. You are more effective at learning when doing it face to face, you are more effective at listening when you are doing it face to face, you are more effective at networking face-to-face and you are more effective at doing business… you get the idea. 
Then there is the Feel-good factor being around other like-minded people gives you. It gives you drive and motivation. 
If you want to achieve the most from any of these things you simply cannot replace a live event. 
So why are we now able to start thinking about returning to live events? With the pandemic now being brought under control thanks to a successful vaccine roll out and with venues well versed in delivering events in a Covid secure manner we can now be far more confident that live events are feasible again. 
At thestudio… we have always taken our responsibility to keep people safe seriously. In response to the pandemic we have been delivering Safe and Seamless meetings, training and events since we reopened back in August of last year. That has included enhanced cleaning regimes, the introduction of one-way systems and track and trace at all venues along with the requirement to wear face coverings in all public spaces. If you're interested you can read more here. Such has been the success that we've been accredited with the 'We're Good to Go' and 'AIM Secure' industry standards for delivering Covid secure events throughout. 
It is important that we continue to play our part and that means we don't plan on suddenly dropping all of the control measures we have worked hard to introduce over the last year or so. Instead, we will continue to embrace them for as long as we need to. We will continue to clean, clean and clean again. We will continue with our increased hygiene measures and whilst there is still a demand we will continue with our contact free catering service.  
We will continue with Safe and Seamless events, long after we really need to and if going over and above is what it takes to give people the confidence that face to face is safe then that is what we will do. 
We very much look forward to welcoming you back soon.