Fantastic February Offers!
Posted on 28 January 2022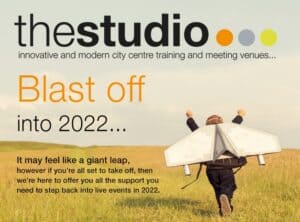 It's not too late to Blast Off into 2022 with thestudio. In fact there has never been a better time! This February we're really pleased to be able to share some fantastic offers applicable to all new bookings taking place in February 2022.
Book with space in mind, with an on request complimentary upgrade to a larger space should you want to socially distance your group.
More is less with our 1 in 10 go FREE offer on all Day Delegate Rate bookings. Just quote ONEINTEN when making your booking!
Just need a room? No problem. We'll give you 10% OFF your quoted room hire rate when you quote TAKE10
Book online 24/7 and we will automatically apply your 10% off room hire discount
And don't forget you can book with peace of mind with our flexible booking guarantee, giving you the option to move your booking without charge should you need to!
It's all part of our mission to give you the tools you need to BoldlyGO with thestudio in 2022. To find out more click here.