Fighting Fit!
Posted on 29 April 2016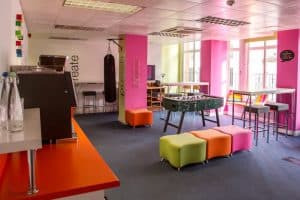 Mahatma Gandhi once said "Earth provides enough to satisfy every man's needs, but not every man's greed."
Though we may not like to admit it we all know the benefits of keeping active and eating correctly. Whilst many live the active life we're so aware of many of us hide our guilty faces in a smoke screen of business or deliberately bury our heads behind computer screens, far too often we fall into a black hole of excuses and reasons to not go for that run, walk or swim. Fortunately a healthy lifestyle doesn't have to mean cutting all your much loved confectioneries; it's more about being mindful. That being said, we have listed the top 5 things which could be the beginnings of a healthier mind and body.
1.Make a stand…
It may sound and even look a bit odd however the benefits of standing whilst working far outweigh the cons, so put on a brave face and anchor those heels to the floor. With the majority of the populous working in modern factories (offices) and commuting to and from work, we know this isn't the best combination for hitting that all important daily step count.
2.Fight off temptation…
Don't be fooled by the snake charmer, it's true that at times your own thoughts can be your own worst enemy, especially when hunger pains take over! Surrounding yourself with healthy snacks will not only assist in keeping those hunger pangs at bay but will support your blood sugar levels. You'll be as ripe and ready to go as your trusty fruit pot. (Don't feel guilty about the odd chocolate though, after all, a momentary indulgence is a thing of beauty!)
3.Let's get physical…
As hunter gatherers, physical movement was essential to survival, now it seems movement is a thing of the stone ages! It's hard after a long day's work to find motivation or even inspiration to do something out of the good ol' comfort zone. Biting the bullet and having a session at a gym, where you may feel overtly self-conscious about your overall fitness levels may not always be the best solution to a healthier life. Why not invest in a step counter or take on a charity challenge? Don't forget, being physical and getting enough sleep are both core ingredients to your wellbeing!
4.From horse power to human power…
For those brave enough to face the British weather head on, saddling up for what we loosely call summer could be a fun, revitalizing and a super healthy choice to make. With the trend of cycling becoming increasingly popular It's not uncommon to see colorfully clad cyclists heading to work all year round. Cycling will help you have an energetic start to the day! Plus we have heard wearing Lycra can feel strangely liberating, naming no names…
5.Water works…
Making up around 60% of our body, water is not only important to help our body clear out toxins but hydration helps to Kung Fu combat that pesky heavy eye lidded monster called fatigue. So if you want to feel refreshed, grab a glass of water and if water just isn't your thing why not try adding cordial. Some water must be better than no water, right?
Like a squirrel who stored nuts for the winter, remember all those little efforts you make all add up. You don't have to wait for a new year to make some changes; there is no better time to start than the present. Good luck on the new ventures and healthier-ish lifestyles. We encourage you to hop, skip or jump to your next meeting even if it's only from New Street to thestudio!