Food for Life
Posted on 30 August 2016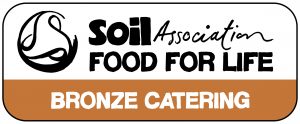 Here at thestudio we like to think of ourselves as being game changers. We place you, our valuable guest, at the heart of everything we do. This being said, in today's day and age an undeniable spotlight has been firmly placed on what we put on our plates.
Sustainable, less travelled, super food , gluten free, diary free and vegan are all words we hear more and more and are becoming a more prominent factor when our customers are choosing their venues for meetings, training and events.  So with this in mind and the fact that we love food! … what we're about to announce should come as no surprise!
We have only just gone and done it! We have achieved a Bronze Food For Life Catering Mark!
Why's this something to shout about?
Well… this means all your food is freshly prepared to the highest of standards by using seasonal vegetables, 'red tractor' meat and eggs from free range hens. Did we mention there's no place for additives or trans fats in our food? We meet the government guidelines for food and nutrition!
Now that's something to shout about!
Our daily menu created by our chefs and complying to the awards standards always offer our delegates; a hot meat or fish dish,  a hot vegetarian dish, which is always gluten and dairy free, hot side dishes, salads and super food of the day, with a little sweet treat of something to finish
If you'd like to see what storms our in-house chefs are capable of cooking up, check out our menu page! *warning salivation imminent*