Fresh Start with SmartStart
Posted on 17 April 2018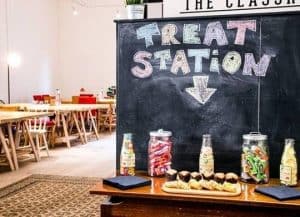 Imagine if you could help the local community whilst attending your teams' yearly round up or weekly meet up. Sound impossible? Not quite! Here at thestudio, we like to bring innovative ideas to the table and make them the centre piece of everything we do. We've achieved just that with thestudiomanchester's alternative, collaborative, self-contained events space: The Classroom.
Every day's a school day…
How does booking The Classroom help the local community? Let's fill you in… thestudiomanchester is partnered up with incredible children's charity: Wood Street Mission. With each get-together The Classroom hosts, a £10 donation goes towards Wood Street Mission's fantastic work. They believe all children should live a poverty free life, encourage children to value education and offering practical guidance so families can raise themselves out of poverty. Knowing that you've helped a budding young mind have confidence in their brilliance and supporting them in having the best start in life will make the unlimited retro snacks even sweeter.
Saved by the bell…
Children are our future engineers, doctors, writers, architects… we believe they all deserve the opportunity to shine bright. With the £10 going directly to Wood Street Mission's SmartStart initiative, we'll be able to support a child in need's first steps into education by supplying them with essential school clothes and equipment!
From thestudio team, we thank everyone who has helped us improve the lives of many Greater Manchester families through using The Classroom. We look forward to continuing our partnership with Wood Street Mission and of course working with you!