Getting to know thestudio…
Posted on 27 February 2019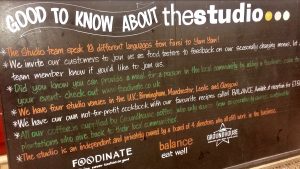 Here at thestudio, we aim to keep all of our fascinating facts and exciting changes at the forefront for our customers to stay in the loop with us!
We are beginning to install our Good to Know About chalkboards in our refreshment areas in all of our venues across to inform and keep you up to date about our latest fun facts, and all the important work we do behind the scenes every step of the way.
Here are some of our eight must know facts…
1. Around the world in 19 ways…
thestudio team between them speak an incredible 19 different languages! They all travel as far across the world from German, Polish and Yoruba, right up to Farsi, Japanese and Zulu – to name just a few!
2. thestudio and the city…
We have four fantastic and bright and bubbly venues throughout UK in vibrant major cities such as Manchester, Birmingham, Glasgow and Leeds, plans are afoot for further expansion … where would you like to see the next studio?
3. Food glorious food…
Did you know that our customers can also join in some of our delicious food taster days and this summer we will be hosting a food innovation day with all of our location chefs, join our studiofamily database to receive your invite. Also good to know that in Birmingham our largest location any food wastage is donated daily to Lets Feed Brum to support with food stations and shelters for those in need.
4. Finding the right BALANCE…
We have our very own not for profit cookbook with all of our favourite recipes called BALANCE. It caters to specialised diets from vegan to gluten free; we even provide nutritional information from energy to protein.
5. Keeping it in the family…
thestudio is an independent and privately owned by a board of four directors who all still work in the business as its continued to expand throughout the UK.
6. Let them eat cake…
For every Foodinate cake added to your event, you can provide a warm and nutritious meal for a person in the local community. Take a look at www.foodinate.co.uk.
7. Coffee for two…
All of our coffee throughout thestudio venues is supplied by Groundhouse Coffee. They not only source their ingredients from co-operatively owned and sustainable plantations, but they also continue to give back to their local communities as a result.
8. It all starts in the Classroom…
For every booking that takes places in the Classroom thestudio donate £10.00 to the Wood Street Mission. They are children's charity helping families living on low incomes in Manchester and Salford. Through their SmartStart initiative, this helps struggling families have access to non-branded school uniforms, coats, shoes, sports kit and stationery throughout the school year.
We'd love for you to stay in thestudio loop with us so give us a follow on Twitter, or tweet @studiovenues for any burning questions about our must-know facts to find out more.
Written by: Leah Mahon
Edited by: Emma Jennings