I Doughnut Believe It!
Posted on 09 May 2017
Guess why thestudio's so excited?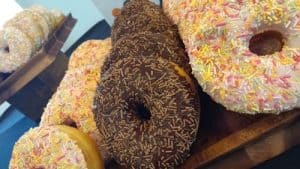 Homer Simpson "eat your heart out" introducing National Doughnut week! Go nuts for doughnuts from the 6th May – 13th May. Kicking off on our fabulous Commercial Director: Julian Kettleborough's birthday, National Doughnut Week isn't just a time where it's socially acceptable to have jam on your face. It's a brilliant opportunity to raise funds for The Children's Trust!
For every doughnut you decide to devour you'll have the chance to donate as little or as much as you can for the UK's leading charity for children with brain injuries. If you fancied spreading the love of sugar dusted rings, find out more here. Good vibes all round 🙂  
Now that's a doughnut!
Did you know the largest doughnut weighed a whopping 1.7 tons! It was jelly filled and stretched to 16ft wide!
What's your flavour?
thestudio team are self-confessed foodies, check out our fave flavours and see if you match up with anyone in the team!
Dawn: "Jam donuts, we used to get them as a treat from Firkins when we were little because our Auntie worked in there."
Jyoti: "Rings iced with sprinkles reminds me of my childhood! I love jam doughnuts dusted with icing sugar and maple syrup ones… YUM!"
Pedro: "1 with sugar sprinkled on top and maybe a jam filling…Because it's sweet!"
Katie: "Sugar ring 😉 Classic!"