International Day of Happiness
Posted on 20 March 2018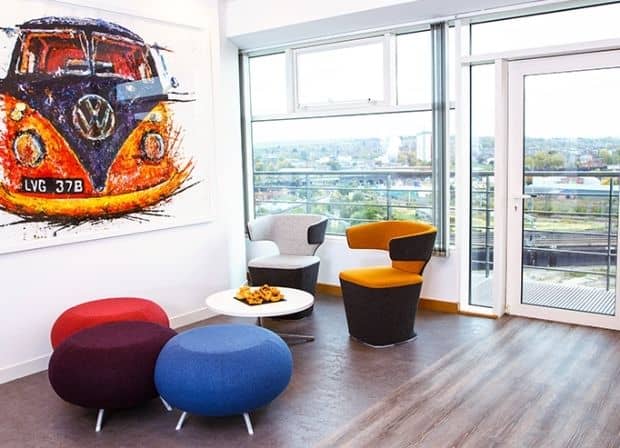 We've got two things on our agenda today… singing along to Pharrell Williams' Happy and reminiscing about some of the best moments in studio history as it's International Day of Happiness!
Do you celebrate?
They say it's important to celebrate the little victories and of course the big ones. But do you find time to congratulate yourself when you achieve your goals or do you straight away delve into a new set of goals to achieve? We understand wins can get overlooked and often forgotten… Feel inspired today and reminisce!
thestudio's top 10 happiest moments so far…
1. 2nd first… It's normal to sound off starting with one, thestudio with all its quirks started with two! Way back when, we were only able to offer events space on our 2nd floor. Creating some ruckus, bull dosing into the first floor, we were able to increase our meeting room spaces and offer you a brand-new floor to experience!
2. Cowley Manor will always have firm place in studio's history, aside from being the location of the first group away day, it's here thestudio ethos was born! Through team building activities, we defined the kind of company we were and how we would make decisions… Customer first it is 😀
3. Baby steps… wise Confucius once said – "It does not matter how slowly you go as long as you do not stop." Experience teaches us one thing, that we only ever truly fail when we give up trying. It was a momentous time when thestudio blew out its 3rd birthday candles… apparently this is the bench mark that an astounding 75% of new companies fail to make!
4. The Directors' trip jet setting off to the beautiful Eindhoven in the Netherlands. Keen advocates of "if you want a new idea change the view". And a follow up trip to Iceland sharing an elongated hot pool under a starlit sky, a perfect setting for the Northern lights and for sharing and planning big dreams.
5. Winning the pinnacle of awards "Best Independent UK venue in 2017" what an accolade, ticking every box in our company vision, where we strive for our customers to say "why would be go anywhere else!"
6. thestudio first ever profitable year independently in 2009, it felt like a massive feat!
7. There's no feeling that quite compared to opening our 2nd venue in Manchester's glorious Northern Quarter.
8. "Come with me, And you'll be, In a world of, Pure imagination" Did you get the Golden Ticket? That's right, one of our happiest memories was when we held the Charlie and the Chocolate Factory themed party. With a cluster of family, friends and special guests, it was the first time Nigel (thestudio's co-founder) showed them what we did. To say the least, they were blown away and to top it off, it was a brilliant party night with new, past and current studio team members.
9. In 2016 the team ticked one off the bucket list… expanding into another country! Opening thestudioglasgow was an amazing achievement and added another member to our family. We're feeling more like a seasoned business with 4 venues now.
10. A happy team is a productive team! Undoubtedly some of our happiest times are when we're whisked away to a team weekend. Usually full of fun activities and packed full of friendly competition, they're a great chance to catch up with each other.
Remember, remember…
Remember all your achievements and good times today, after all, it's International Day of Happiness! Wishing you a lot more memorable days and achievements to come.