Let's be confident…
Posted on 17 October 2018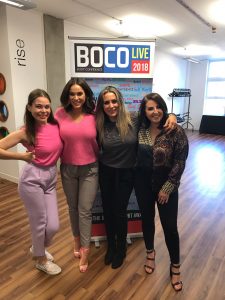 "It's all about you! And it's all about laughter, positivity and fun!" – Body Confidence
Confidence is a thing of beauty, it's that inner driving force which makes you shine in everything you do. It's the deciding factor whether we choose to take the bull by its horns or shy away from the opportunity. Being sure of yourself isn't just about taking things in your graceful stride, it's all about how you feel. Knowing your strengths and weaknesses is key but knowing yourself is most important.
Here @thestudio we appreciate people come in all shapes, sizes and confidence levels! Recently we had the brilliant opportunity to host Body Confidence Live's inspirational event. A positive gathering all about body confidence, well-being and self-esteem. Dust off a new you by embracing an alternative perspective.
Lindsay Reid from Body Confidence had this to say about the event – "The event was great. We set out to have a positive and fun day and we really seemed to achieve that with amazing feedback about the way we'd helped make people feel which was everything we wanted. Our speakers were amazing, the venue was great, and our audience left feeling positive and uplifted."
I've got the power…
We encourage our team to be confident by allowing them to be themselves and to interact with guests in the way they instinctively feel is right rather than following a script. We think this helps contribute to the family feel we've created across our spaces!