Levelling Up In Leeds
Posted on 12 July 2017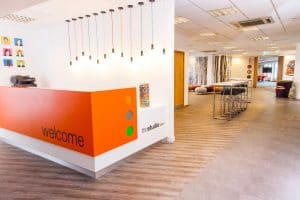 Find out why we're bouncing off the walls…
In 2015, we welcomed a new addition to thestudio family in Leeds. Perched on the 8th floor on Riverside West, overlooking both city and country views, thestudioleeds offers a bright, quirky alternative events venue. A place to soak in the Yorkshire views and escape from the norm. We've got some brilliant news we'd love to share with you!
Bigger is better…
Remember, remember this September. Imagine that your favourite cake just got a whole new layer, with the same deliciousness as the others! Well, that's exactly what's happening to thestudioleeds. We're happy to announce the introduction of a whole new floor. With a mixture of spaces perfect for small to medium events, they'll be ready to Rock 'n' Roll by this September!
Venues under the hammer…
If we've been lucky enough to have you as guests at any of our venues, you might have noticed that we're really into food. That's why thestudiobirmingham's kitchen is getting a revamp! So we can create and make even more delicious dishes for you and your guests.
Look forward to welcoming you!