National Tea Day
Posted on 23 April 2018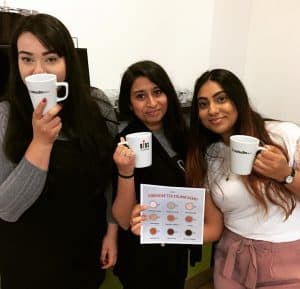 What's that sound?
The melody of excited whistling kettles and the magical chiming of swirling spoons fills the air… It's time to make some music… Let's stick on a brew and make a song & dance about Tea! That's right, it's National Tea Day.
Hi Chai…
Us Brits are well known for being avid tea drinkers, whether it's enjoying an afternoon filled with cakes and bite sized sandwiches or nuzzling into a fluffy blanket on a cold day, everything seems so much brighter accompanied by a good cuppa.
We've been drinking tea for centuries! Did you know the earliest record of sipping this humble leaf originated in 3rd century China? It's no wonder this lovely leaf has achieved, quite frankly, world domination. With almost an infinite variety of blends, infusions and combinations, this once mainly medicinal potion has expanded its branches and planted obsession into hearts all over the world.
Hot or cold, this delicious drink comes with a whole heap of impressive health benefits: antioxidants, bone protection, boosting your immune system… just to name a few!
Milk and two sugars…
Making tea is a serious business. It's the ultimate challenge in timing and ratio skills, a touch too much milk or leaving the bag in can really dictate if the mug you made with love gets left untouched… To make absolutely certain this never happens, thestudio team have a tea chart in their office highlighting acceptable shades of tea!
Can't tell your tea cups to your tea pots? Help is at hand! Get your skills up to scratch by clicking here… A sure fire way to win the hearts of everyone in the office. (p.s don't forget to bring some cake to sweeten the deal).
Mug to glug…
@thestudio nothing can beat a good cuppa. Whether you're a health enthusiast or just need a morning 'pick me up', from energetic green tea, a good ol' Tetley or a soothing Earl Grey… we'll have your tea needs covered!