Seeds for the bees…
Posted on 03 May 2019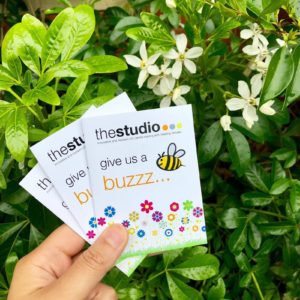 Here @thestudio we like to make a difference. That's why we've replaced our business cards with our "Give us a buzz" wildflower seed packs! Completely biodegradable, our give us a buzz cards give you more than just our contact details, you also get a handful of magic to grow.
It's a sobering thought to realise that if the bee disappeared off the face of the earth, man would only have four year left to live (Maurice Maeterlink, The Life of Bee) so, help us do our bit and sow thestudio seeds this spring.
The best thing about our bee and butterfly seed blend is that they can be grown anywhere. You don't have to be green fingered to get our little seedlings going! Whether you're looking for a lovely sprig of spring to brighten up your garden or a pot of pretty flowers to adorn your window sill.
Simple as 1, 2, 3, handy tips to help get you started…
Now the frost of a very long British winter has thawed out, it's time to help the bees by sowing some seeds! Chose the ideal location by assessing sunlight and moisture sprinkle directly onto the ground or pot
Water really is the elixir of life, so don't forget to give the little buds a boost with a little shower every now and then.
Everyone loves compliments, even plants! Kind words might help encourage you flowers to grow… So let's get chatting.
Don't forget to show us your progress… Tag your plant progression #GiveUsABuzz @studiovenues on twitter or Instagram. If you'd like a seed pack just let us know 😊
Happy Gardening!