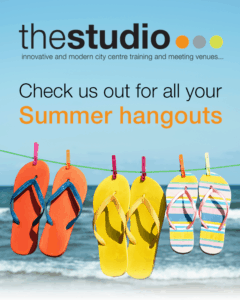 If you're thinking about what you can do to get together this summer make sure you think of thestudio…
We've got some great Safe and Seamless options available for you to get your team together, face to face for some valuable rebuilding time.
Sizzle in the Summer heat with our popular BBQ package, available at all of our locations with outdoor space – read about our BBQ package here.
Get together to rebuild, reengage and revitalise your team with our team building packages available across all of our locations.
Don't forget your meeting room! We've got plenty of space to get together before your BBQ, for your team building briefing or just a straight up face to face meeting. Look no further, you can find out about all of our meetings space here.
What's more, some of our most popular meeting rooms are now available to book online so meeting at thestudio… has never been easier! Just choose your room, add on your extras, pay and done. To find out about online meeting room bookings click here.
Got something else in mind? We love a challenge! Tell us what your looking for and, working with our partners, we will come back to you! Contact us here.
Whatever your plans for this summer talk to us today!