You may have heard about it already (we've been quite excited about this so hard to keep quiet!) but we are absolutely delighted to confirm we are now working with AV specialists Bryght to deliver a dedicated live streaming studio at thestudio Birmingham.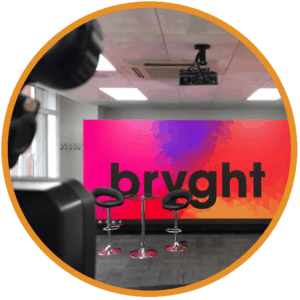 The "Bryght Studio at thestudio" is now being offered to all of our clients as a seamless city centre production solution. 
This is a fantastic opportunity to partner with a tech specialist who share our values to ensure we meet the needs of those guests who are looking for a safe and seamless event solution in these extraordinary times. There is still an opportunity to expand the offer, our relationship with Bryght is set to grow and we are looking forward to offering the Bryght Studio at thestudio across all our locations over the forthcoming months.
We caught up briefly with Bryght director Nick Ricketts who told us "It's been our ambition to offer a city centre production facility for some time and during the last few months we've seen a significant increase in demand for this offer. We wanted to partner with an equally dynamic organisation and our relationship with thestudio enables us to provide the latest in high technology equipment with the support of an experienced event team in one of the city's most established and creative event venues" 
We have been working hard to build a flexible package suited to the needs of all clients including virtual and hybrid options. We understand that for some clients this will be their first experience in hosting virtual or hybrid events and we want everyone to feel confident that they have our full support throughout every step of the process. The Bryght Studio at thestudio compliments our existing services and we're now proud to be able to offer a full hybrid and virtual event offer, no matter what your budget.
We will catch up with Nick next week to dive a little deeper into what the Bryght Studio at thestudio can offer you for your next hybrid or virtual event. To find out more click here.
As our industry starts to see the green shoots of recovery we are delighted to report an 88% increase in confirmed business since the Prime Ministers roadmap out of lockdown announcement in February.
We've been working hard over the past few months to ensure we have solutions available to allow our clients to take the bold step back into events and we're pleased that confidence is growing and confirmed bookings are falling into our diary.
"We have been pleased to be open to support with critical training throughout this latest lockdown, however as enquiry levels grow and a return to regular events comes into view, the news of an increase in confirmed business signals the next step in a long-awaited recovery, which is exciting not just for us, but for the industry as a whole" says our Commercial Director Julian Kettleborough
"We have been working hard to build our offer and continue to increase the flexibility we are able to give our clients including virtual and hybrid options. We want everyone to feel confident that they have our full support when making the bold step back into holding their events. We are really pleased that this work, coupled with a positive announcement from the Government, has meant we are experiencing an increase in enquiries and more importantly firm commitments from our clients."
"Whilst the end is sight we still have a lot of work to do both as a business and as part of the industry and we certainly don't want to sit still. We will continue to work closely with our clients, listening and being flexible to their needs to ensure they have the confidence to book their events for the coming months."
Whether you are looking for a totally live event, hybrid or virtual options, if you want to Boldy GO speak to us today or have a take a look at how we can support you here.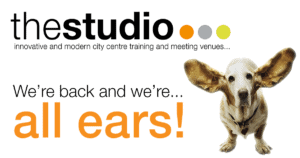 We know it's been a while but if you are ready to meet, then we're ready to welcome you with safe and seamless meeting and event spaces in Birmingham, Leeds, Manchester and Glasgow.
If you need extra room then we've got so much space you can 'boldy go' where other guests fear to tread.
And don't worry if it's a giant leap too far. For bookings up to September 2021 we'll offer a flexible booking guarantee which will allow you to cancel or amend your booking as little as 7 days prior with no questions asked.
To book please call 0800 028 6694  or email us on events@thestudio.co.uk
It's been a week since International CONFEX (19th – 21st March) in London closed its doors. How time flies in the world of events! It seems only yesterday we were unwrapping our Christmas gifts and now we're slowly wrapping up the month of March! It's funny that in a world based on people contact you really seem to sometimes miss keeping in touch with your fellow colleagues and peers. CONFEX is a great opportunity to meet old acquaintances, get to know new people and hear people's enthusiasm for the services we offer.
This year we were part of an elite selection of venues that were brought forth under the Meet Birmingham umbrella. It was great to see so many people who recognise the advantages of holding meetings in the Birmingham area. More than ever, people realise that the West Midlands is a great hub for bu (more…)