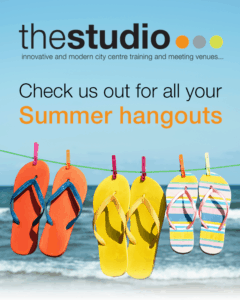 If you're thinking about what you can do to get together this summer make sure you think of thestudio…
We've got some great Safe and Seamless options available for you to get your team together, face to face for some valuable rebuilding time.
Sizzle in the Summer heat with our popular BBQ package, available at all of our locations with outdoor space – read about our BBQ package here.
Get together to rebuild, reengage and revitalise your team with our team building packages available across all of our locations.
Don't forget your meeting room! We've got plenty of space to get together before your BBQ, for your team building briefing or just a straight up face to face meeting. Look no further, you can find out about all of our meetings space here.
What's more, some of our most popular meeting rooms are now available to book online so meeting at thestudio… has never been easier! Just choose your room, add on your extras, pay and done. To find out about online meeting room bookings click here.
Got something else in mind? We love a challenge! Tell us what your looking for and, working with our partners, we will come back to you! Contact us here.
Whatever your plans for this summer talk to us today!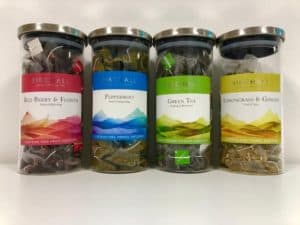 "Tea to the English is really a picnic indoors."
-Alice Walker
It's no secret that us Brits love a cuppa. Whether it's a quick brew before heading out the door or enjoyed with a myriad of cakes and bite sized sandwiches, tea drinking is an undeniably huge part of our culture. So important in fact that we've got some big news to share with you…
BIGGER, Better tea selection…
If you ask us what year it is, we'll say it's Twentea twentea! That's because we've introduced a new variety of Birchall teas across all our venues. Whether it's a caffeine boosting English Breakfast, refreshing and distinct Earl Grey or a stomach settling ginger and lemon, we've got you covered. In this turning over a new leaf, there's even red berries, green tea, chamomile and peppermint to choose from.
Why Birchall?
With 5 generations of tea expertise's in its basket, its no wonder Birchall has won so many great taste awards. Aside from the spectacular flavour, Birchall has a strong sense of sustainability and environmental responsibility.Their tea bags are compost friendly, better still they're MICRO PLASTIC FREE! The importance they place on innovative ways to reduce impact really resonates with thestudio's core values. We're always looking at ways to add something a little special to your customer journey with us.
Fancy a cuppa?
Win a box of Birchalls tea by following @studiovenues on twitter and RETWEET to enter! (Only till 4pm 6th Feb)
Mug to glug…
Nothing short of a hug in a mug, not much beats a good cuppa. We want your tea tasting opinions, tweet us @thestudio. If you'd like to find out more about Birchall tea click here… And remember, you're always welcome to pop in and join us for a brew!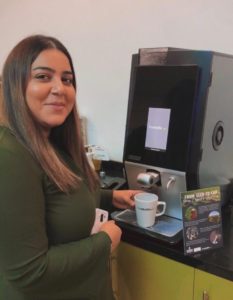 Some people say it's mystical, a magic potion that ignites your mornings with promise and opportunity… We call it coffee! There's no denying a great cup of morning pick me up really can make you feel invincible.
The way you start your day really matters to us, that's why we've joined forces with Redber coffee roasters and upgraded all the coffee and machines in our venues, ensuring you start your day off perfectly!
We have introduced new bean to cup Esprecious machines as well as new filter Aurora machines across all locations. Whether your daily grind calls for a latte, mocha, or a simple unadulterated cup of the pure stuff, we have it all brewing for you …
Our new blend…
Coffee beans grown in the nutrient dense volcanic soils of Honduras and the high altitude of the Cachoeira farm combine to make our delicious "studio blend". This offers a smooth, aromatic taste experience with chocolatey/nutty undertones.
Redber buy directly from source, starting with a delicate green bean which is then roasted to order for us and delivered the next day. This means you'll always have a fresh coffee experience.
We cannot tell you how excited we are to be offering such a great product with a fantastic new coffee partner. The buzz around the venues (not only from the caffeine!) is just wonderful. Great taste, ethical sourcing, happy customers… what more could we ask for?!
Fun fact…
Did you know coffee is a fruit? The bean which we use grows inside a coffee cherry! Though we wouldn't go as far to say it counts towards one of your five a day.
Something for everyone….
Not a coffee drinker? Watch this space, we'll soon be introducing a new range of teas… They are eco-friendly and biodegradable! Find out more about Birchall teas by clicking the link below:
We're excited for all the developments 2020 will bring and from everyone @thestudio, we wish you your best year yet!
Ever notice how people who are admired, radiate a positive and friendly aura? Whether you're looking to secure agreements, network or become someone's go to person, body language has a meaningful impact on the connections we attempt to create. We are frequently told "actions speak louder than words", so join us as we delve into the world of body language!
What is this body language you speak of?
Body language in a nutshell is how we consciously and unconsciously hold ourselves. It's a form of nonverbal communication which gives clues into our frame of mind or attitude. From posture to a welcoming handshake, every gesture we make is subconsciously noted in the minds of our audiences. It has the power to convey how we really feel, without even saying a word! "Research says that our communication consists of 35% verbal communication and 65% non-verbal communication."
Positivity is infectious!
First time presenting or have an important client catch up? A positive body language can help captivate, influence and draw in your audience/guests to the pivotal message of your meeting. We've done some digging and here are a few ways you'll give off the best impression:
1. Chillin' is winning – having a relaxed posture, breathing and open arms/palms are all signs of a calm demeanour. Making you seem approachable, friendly and pleasant.
2. It's all in the eyes – eye contact is important; it shows that you are confident and comfortable in a given situation/environment. It's said that eye contact when teaching improves learning, attention and makes the audience feel more engaged. It even expresses interest…just remember not to stare!
3. Nodding helps to emphasise key points and makes them more memorable.
4. Show off your pearly whites – smiling and using humour encourages people to feel more at ease and makes it easier to develop a warm personal relationship.

Everything in moderation…
Positive body language should be used sparingly, it's a fine line as consistent exaggerated gestures can come off more negative than positive!
After thought…
Body language can be consciously applied to any given situation, so we hope that you've found this insightful. Why not give it a whirl and try out our positive body language tips!
Written by: Jyoti Banga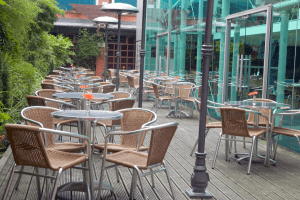 It's finally here, the British summer has decided to make an appearance halfway through the year. Better late than never we say! Before we strut our stuff in shorts and add cocktail umbrellas to all our cold drinks, there is one hurdle to jump…
We spend a good portion of our lives dedicated to our careers which usually means business attire! Whilst presentation is everything, being suited and booted often leads us to feeling hot under the collar. Despite retiring your blazer to your chair back, heat can be a problem.
So how would you keep your guests from falling asleep in your events? Read on for our top tips for keeping your team cool and engaged this summer!
1 – Feel that breeze! Let's be honest, no one wants to be confined to an office space for the whole day. Not much has changed from those long hot schooldays spent peering out the window wishing you were outside. That's why it's important to have the best of both worlds. Choose an event venue that offers an outdoor area where guests can stretch their legs and get that all important dose of vitamin D. It'll make a huge difference to their outlook and concentration.
2 – Avoid stuffy rooms… Open the windows! General ventilation is a blessing in hot weather conditions. Making sure there is a flow of air will have a significant effect on your guests' comfort. How to make sure the venue offers exactly what you need? Getting a first-hand perspective of what you've booked really helps, book in to visit the event space you've booked!
3 – Ice cream! Everyone loves surprises, especially ones involving food. Refresh your guests by treating them to ice cream. It's a great trick that'll offer some refuge from the heat and a much-needed sugar boost! Rest assured ice cream isn't the only option, how about: cool fruit kebabs, individual pots of sorbet, smoothies, jugs of iced tea or even hire in a Slushie machine! The possibilities are endless… Check with your events space what they could offer.
4 – Engage your guests… Visual, auditory, reading/writing, and kinesthetic, keeping different types of learners engaged in the baking heat is a challenge to say the least! Our solution? Try having ice breaker style activities dotted throughout your event. Three short 5 minute activities will help refocus your guests. Using lightly competitive games, quizzes or puzzles alongside your event topic will make the information more memorable. Alternatively, you could book an external company through your venue who offer fun team building exercises!
5 – Hydration breaks… We all respond to heat differently, some of us relish in the inferno whilst others recoil at the thought of being hot. One sure fire way to douse that flame is to incorporate hydration breaks into your event. These little breathers will help the day keep pace and allows each individual to regulate their own body temperature. After-all, water is the elixir of life!
We hope our summer suggestions will help you in your events. Tweet us your cool ideas @studiovenues.
Written by: Jyoti Banga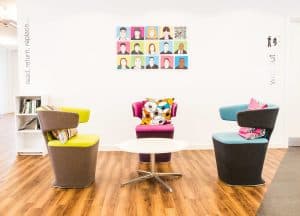 We appreciate finding the perfect match is a challenge, we appreciate a helping hand never goes a miss… With that in mind, here are our best tips for finding your dream venue.
The bare necessities…
Before we go off on a delightful tangent and start singing The Jungle Books' classic song, let's think about what you need from your venue. It could be anything from super-fast Wi-Fi connection, an outdoor environment or a stylised exhibition space. Jotting down a few key things about your event needs really helps to hone in your search results!
Are we there yet …?
Whether you're dreaming about a coastline view, a cityscape or somewhere out in the sticks, location is everything when it comes to planning. A few thoughtful questions to help steer you in the right direction: how easy is the prospective venue to find? Will the bulk of your guest be travelling by car or using public transport? Is there accommodation at the venue or nearby? All these aspects will have a profound affect in your pursuit for your perfect match!
Show me the money…
Whether you're tightening the purse strings or letting loose with your spending, budget plays a massive role in organising your event. If you're conscious about splurging, arranging your event to fall on Monday, Friday or school holidays might help you save a pretty penny.
Free venue finding services…
New to the meetings and events game? Don't worry, everyone starts somewhere! Luckily, there's an abundance of lovely people who'll be happy to help you on your mission. Free venue finding services are a way to go, they provide you support, search for and offer a variety of viable options. With a list of all your specs and event info, they'll do all they leg work. Sounds like a dream doesn't it?
Go with your gut…
Always visit the venue! Even though you'll have copious amounts of images, detailed specifications and virtual tours of the location, nothing will speak louder than your first impression. You'll be able to get a feel for the service, the team and most importantly the environment. Trust your intuition. Also check out all the venues social media pages, this will give you a great insight into their business personality and also it acts as a great way to see what other customer's might be twittering on about!
That's a wrap…
All in all, finding your perfect match is a doddle! We hope that our tips served you well in your search and if you ever need anything meetings and events, we'll always be happy to help 😊
Written by: Jyoti Banga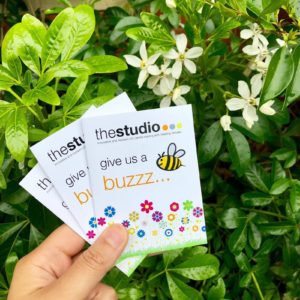 Here @thestudio we like to make a difference. That's why we've replaced our business cards with our "Give us a buzz" wildflower seed packs! Completely biodegradable, our give us a buzz cards give you more than just our contact details, you also get a handful of magic to grow.
It's a sobering thought to realise that if the bee disappeared off the face of the earth, man would only have four year left to live (Maurice Maeterlink, The Life of Bee) so, help us do our bit and sow thestudio seeds this spring.
The best thing about our bee and butterfly seed blend is that they can be grown anywhere. You don't have to be green fingered to get our little seedlings going! Whether you're looking for a lovely sprig of spring to brighten up your garden or a pot of pretty flowers to adorn your window sill.
Simple as 1, 2, 3, handy tips to help get you started…
Now the frost of a very long British winter has thawed out, it's time to help the bees by sowing some seeds! Chose the ideal location by assessing sunlight and moisture sprinkle directly onto the ground or pot
Water really is the elixir of life, so don't forget to give the little buds a boost with a little shower every now and then.
Everyone loves compliments, even plants! Kind words might help encourage you flowers to grow… So let's get chatting.
Don't forget to show us your progress… Tag your plant progression #GiveUsABuzz @studiovenues on twitter or Instagram. If you'd like a seed pack just let us know 😊
Happy Gardening!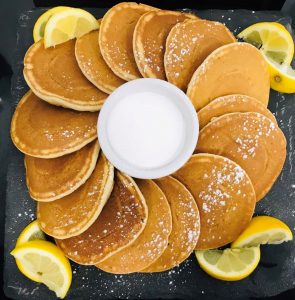 To "give up" – cease making an effort; admit defeat.
Those who have stepped into any one of our four venues or met any of our team will know that "giving up" is not a phrase we like to take lightly here at thestudio. We make every effort to not view any task as too big, just a new challenge to embrace… However, at this time of year giving up is given a whole new meaning, with some doing it for different reasons to others…
Lent…
Lent is a 40-day period taking place around Easter, starting this year from the 6th March and ending on the 18th April. This is a Christian celebration, followers will fast from food and festivities to recreate the sacrifice of Jesus and time in the dessert.
Only a small amount of people now fast for the whole 40 days, instead some choose a favourite snack or bad habit to refrain from during this time. We all like to test our will power from time to time!
Indulge yourself…
Returning visitors will know we don't like to hold back in feeding up our guests with a sweet treat here and there. We have even more opportunity to do just that recently, as today we have put out our pancake stations with the pick of your favourite toppings.
Our Spring treats also kick off to a flying start this week including a choice of Victoria sponge cakes, chocolate mini eggs and delicious hot toasted hot cross buns…
We have also made sure to include some little less indulgent treats; our bircher our pots and freshly sliced fruit platters.
I'd give up cake, but I'm no quitter …
Its been fascinating to find out what some of our team are going to try to "give up" for the next 40 days …
• Our Sales Director Oli wants to give up beer (and as he says now it's written in black and white there's no going back!)
• Our Sales & Revenue Manager Mandy is vowing to give up bread, saying she would happily eat it with every meal! However, she is going on holiday in the middle so may have a cheeky cheat day now and then…
• One of our Co-founders Emma, said she is going to give up Kale, she likes it a lot, but thinks she should be able to live without it until Easter Sunday !!
Let there be light…
Whether you choose to take part in Lent or not, in Old English the word means 'lengthen' reminding us that this time of year also means longer days. Hallelujah!
Written by: Rachel Robinson
Edited by: Emma Jennings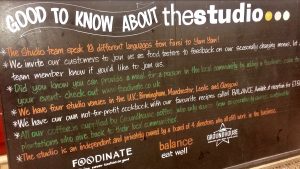 Here at thestudio, we aim to keep all of our fascinating facts and exciting changes at the forefront for our customers to stay in the loop with us!
We are beginning to install our Good to Know About chalkboards in our refreshment areas in all of our venues across to inform and keep you up to date about our latest fun facts, and all the important work we do behind the scenes every step of the way.
Here are some of our eight must know facts…
1. Around the world in 19 ways…
thestudio team between them speak an incredible 19 different languages! They all travel as far across the world from German, Polish and Yoruba, right up to Farsi, Japanese and Zulu – to name just a few!
2. thestudio and the city…
We have four fantastic and bright and bubbly venues throughout UK in vibrant major cities such as Manchester, Birmingham, Glasgow and Leeds, plans are afoot for further expansion … where would you like to see the next studio?
3. Food glorious food…
Did you know that our customers can also join in some of our delicious food taster days and this summer we will be hosting a food innovation day with all of our location chefs, join our studiofamily database to receive your invite. Also good to know that in Birmingham our largest location any food wastage is donated daily to Lets Feed Brum to support with food stations and shelters for those in need.
4. Finding the right BALANCE…
We have our very own not for profit cookbook with all of our favourite recipes called BALANCE. It caters to specialised diets from vegan to gluten free; we even provide nutritional information from energy to protein.
5. Keeping it in the family…
thestudio is an independent and privately owned by a board of four directors who all still work in the business as its continued to expand throughout the UK.
6. Let them eat cake…
For every Foodinate cake added to your event, you can provide a warm and nutritious meal for a person in the local community. Take a look at www.foodinate.co.uk.
7. Coffee for two…
All of our coffee throughout thestudio venues is supplied by Groundhouse Coffee. They not only source their ingredients from co-operatively owned and sustainable plantations, but they also continue to give back to their local communities as a result.
8. It all starts in the Classroom…
For every booking that takes places in the Classroom thestudio donate £10.00 to the Wood Street Mission. They are children's charity helping families living on low incomes in Manchester and Salford. Through their SmartStart initiative, this helps struggling families have access to non-branded school uniforms, coats, shoes, sports kit and stationery throughout the school year.
We'd love for you to stay in thestudio loop with us so give us a follow on Twitter, or tweet @studiovenues for any burning questions about our must-know facts to find out more.
Written by: Leah Mahon
Edited by: Emma Jennings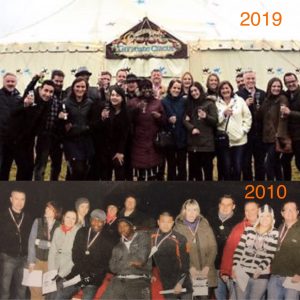 Have you overcome your fear of old photos? Well, now's the time! Most of us cringe at the thought of sharing selfies from what seems like a happily forgotten past of wardrobe horrors, yet today, we're relishing in the #10yearchallenge. Instead of burning unforgivable pics, we're given the opportunity to be proud of who we were and present the world with who we are. Change is something to be celebrated and with that in mind, we just had to get in on the fun… Here's thestudio's #10yearchallenge!
Who would've thought it…?
Let's set the scene, in 2009 thestudio would have only been three! In our modest beginnings, thestudio consisted of one venue: Birmingham. Our humble headquarters, fondly referred to Mission Control could welcome you to just 10 meeting spaces… At this moment in time, our sights were firmly set on Manchester and establishing a second home… Where were you in 2009?
Fast forward to 2019…
A lot has happened since 2009, some of which as a fellow studio goer you might already know! Count how many studio facts you knew and wow us by tweeting the number @studiovenues…
More venues! 4 in total in the cultural hearts of Birmingham, Manchester, Leeds and Glasgow
Birmingham is our largest venue by far! Encompassing 4 floors and a secret library!
Conscious effort to help the local communities in the cities we call home by partnering with local charities & not for profits – Let's Feed Brum, Foodinate, Crisis, Wood Street Mission.
Planning for studio family fun day at Gifford's circus in the Cotswolds
Who needs business cards? Save the bees by planting seeds! New initiative to replace business card with informative seed packets
GDPR won't stop us! Reconnecting thestudio family via a database to offer exclusive treats
Same dream, new team! Our mission statement of customer first will never change
Our hot vegetarian buffet choice is now always vegan and one of the two options (meat/veg) are always gluten free
thestudio's has its own cook book: BALANCE, approved by the NDR and totally not for profit
What's the plan Stan? 2019 – 10 years on…
The New Year brings with it a call of reinvention, a time to applaud past achievements and another chance to dream big!
As always we ask you to stick with us and watch this space because this is going to be an exciting year! p.s we hope you enjoyed our #10yearchallenge!