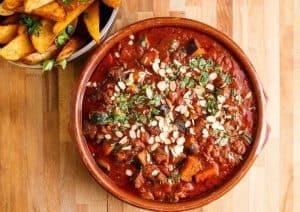 Welcome…
Everyone loves feeling a part of something, having a sense of belonging and being accounted for. Life's much more fun when everyone's included, it's why our meat-free buffet options are gluten free, dairy free and of course vegan friendly! #worldveganday
Unlimited vegan options…
On a health kick? Wave goodbye to boring celery sticks and hello to mouth-watering vegan dishes like chickpea and spinach masala with pilau rice or sweet & sour tofu served with stir fried veggies and rice noodles. Who ever said a plant based diet had to be boring? (Watch this space, we'll be releasing thestudio cookbook this winter which includes some great vegan dishes! Talking about vegan dishes… click here for a surprise recipe!)
Food for thought…
Did you know veganism is more than a plant based diet? It's a lifestyle! Their ethos of avoiding animal products for moral/health reasons influences all types of products they use from shower gel to floor cleaner, even clothing. Learn more about veganism click here…  and the benefits click here…
Insider view…
One of the studio team undertook a short stint of veganism, check out her experience:
"One of my good friends is vegan and she was a real hard-core meat eater. Admittedly I didn't eat much meat or dairy so taking on a vegan week challenge seemed achievable! It went swimmingly and I haven't eaten meat since, a few months now, I can't say I miss it that much, well, that is until the aroma of a bacon sandwich in the morning!"
Foodie to foodie…
Here at thestudio, we see being a foodie as a super power to make any food spectacular, enjoyable and memorable. Whether the dish is vegan or otherwise, we'll definitely put our heart and soul into it!