We're back and we're all Ears!
Posted on 17 March 2021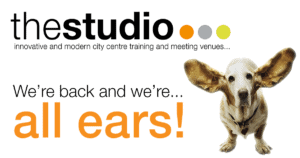 We know it's been a while but if you are ready to meet, then we're ready to welcome you with safe and seamless meeting and event spaces in Birmingham, Leeds, Manchester and Glasgow.
If you need extra room then we've got so much space you can 'boldy go' where other guests fear to tread.
And don't worry if it's a giant leap too far. For bookings up to September 2021 we'll offer a flexible booking guarantee which will allow you to cancel or amend your booking as little as 7 days prior with no questions asked.
To book please call 0800 028 6694  or email us on events@thestudio.co.uk