Why's thestudio Buzzing?
Posted on 01 October 2017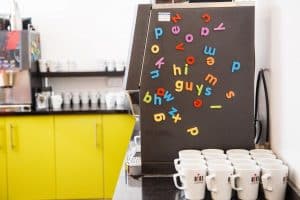 We just can't seem to settle down, can you guess why? It's International Coffee Day!
If we've had the pleasure of welcoming you through our doors, you might have noticed we love a good coffee. We're proud to offer you and your guests' fresh bean to cup coffee on every mug you pour… delicious!
Test yourself and see if you're a coffee fiend by thestudio's standards!
1.    Have you ever experienced coffee envy?
2.    Does the thought of tasting luxurious imported beans excite you?
3.    Are you on cup #3 by 9am?
4.    Does the scent of coffee outweigh the aroma of freshly cut grass or bacon?
5.    Would you always choose a coffee over tea?
6.    Are your friends and work colleagues impressed by how many jazzy named coffees you've tasted?
7.    Do you have a dedicated mugs or your all-important morning pick me up?
8.    Have you invested in a trusty coffee machine and placed it lovingly by your bedside?
1 – 4 yes's – tea drinker perhaps?
5 – 6 yes's – Coffee has a special place in your heart!
7 – 9 yes's – Must be still buzzing for your last coffee…
10 yes's – You're a true coffee fiend!
Give Me Coffee and T.V…
This wonderful world is full of hot drink connoisseurs. With each of us having our own palates and taste preferences we just can't help ourselves but give tea drinkers a good ol' shout out…
It may be International Coffee Day we can't help but use this opportunity to welcome Tetley tea in our venues!
So whether you prefer a rich coffee, sweet tea or a flavoursome hot chocolate… Happy International Coffee Day from thestudio.