Why's thestudio grinning?
Posted on 05 October 2018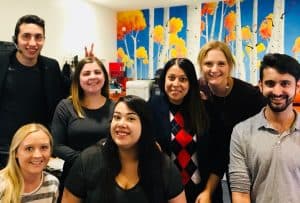 "A smile is a curve that sets everything straight." Phyllis Diller
Say Cheese…
Smiles are a wonderful thing, they're a lovely sign to ourselves and others that we're feelin' fine. We think everyone looks their best when they show off their pearly whites, you could even say they offer an instant makeover!
Tweet @studiovenues what makes you grin
What makes thestudio smile?
YOU!
It might sound cheesy, but we just can't help it! We're self-proclaimed feedback fanatics as without the good, the bad and the ugly, we wouldn't know how to put a smile on your face.
There is another reason why we're grinning from ear to ear… recently thestudioglasgow was chosen to host Children in Scotland's young person's question & answer session with Scotland's First Minister Nicola Sturgeon!
This charity event was aired on Scotland Tonight and can be caught on youtube! (Just click here if you're curious 'Scotland Tonight FMQT:Next Generation'.)
Event Organiser Erin Butler from Children in Scotland shared some lovely words about her experience with us –
'The young people on the design team for FMQT Next Generation were keen to find a venue that was relaxed, fun and flexible and The Studio ticked all of those boxes. We knew from experience that the staff are always so accommodating and true to form, nothing ever felt like too much trouble even when responding to the demands of the three different organisations involved with this project. I can't speak highly enough of both the sales team in Birmingham and the operations team in Glasgow. I literally couldn't fault them and we can't wait to come back!'
So we're celebrating world smile day with positive thoughts! P.S a cheeky grin is contagious, so the next time you see some give them your best as you never know… it could travel the world!