Wish it, want it
Posted on 13 December 2017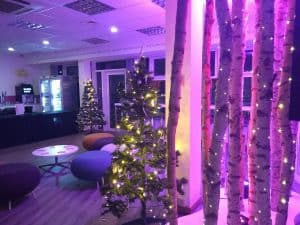 Frost bitten trees, twinkling lights, long nights… Winter brings great change to both our landscape and to our hearts. With Christmas firmly planting its snow boots on our door step, Santa at the ready to sneak down our chimneys, cities and homes all beautifully adorned in quaint decorations, it's no wonder we're all completely taken in by this magical season! And of course thestudio will be getting involved!
Cold feet…
Don't be put off numb fingers and Rudolf red nose sufferers, optimism isn't the only thing that can fight off the frost. Stave off those winter blues with some festive cheer and brighten up the day with the simplest of pleasures.
Boost your team with these seven super suggestions:
1. Decorate the office! Maybe importing a snow machine would be a little much…
2. Belt out some Christmas classics in the office. Sometimes you just can't help but sing along
3. Short trip to the Markets? Nothing quite like a comforting hot chocolate to soothe the cold
4. Yule be crowned a winner! Have a friendly competition of who can make the best Yule log
5. Whether it's dress down Tuesday or casual Fridays, why not dig out "those" jumpers
6. Secret Santa anyone?!
Whatever you choose to do to celebrate there's nothing quite like immersing the team in the season!
Get your knits out…
This Wednesday we'll be pulling out all the stops, so join us in wearing our Christmas jumpers! The team are looking forward to wearing their cosy Xmas pullovers whilst gift giving as secret Santa's.
Entertain yourself by checking out what thestudio teamed asked for when they were young…
Navisha – A bike and hells yeah! I was so happy when I received it 
Chris – I wanted a puppy! I got a guide dog puppy but we had to give it back at the end of the year 
Rachel – I went mad for a furby! Then I bet after a couple of months I got bored of it and it got packed away … oops!
Mandy – I really wanted roller-skates. All the craze in the 80's. Roller-skates and skateboards. My parents pretended to have bought my brother the skate board he wanted and nothing for me. At which I cried. They had actually bought me them and so I was so happy.
I was always one of those children who didn't want to get hurt so didn't really partake in physical activity!
I think I tried riding them just a handful of times before I gave up trying to learn.
What a waste!
Prabjot – I really wanted a furby… never got one though. Also wanted a Tamagotchi, and I got one of those… promptly got bored and then used the batteries for a book!
Whether you're on Santa's naughty or nice list, we wish you a very Merry Christmas and Happy New Year from thestudio.