World Book Day
Posted on 01 March 2018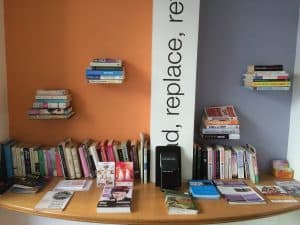 We're celebrating all things literature, language, illustrations and of course reading as it's #WorldBookDay.
Read, retreat, return…
In our demanding schedules, it sometimes feels overwhelming to carve out some time to finally nestle down into that book that's quietly gathering dust on the bedside table. Whether it's a quick flick though of the morning newspaper or quality time with your kindle, we've found some reasons to knuckle down and get those pages turning.
Reading over Netflix?
Life is to be enjoyed but it's also about balance. We all know we've unashamedly binged on a TV series but here's some reasons to consider reaching for a hardcopy than the remote:
1. Enter the realm of imagination and get lost in the fantastical, a little escapism helps to reduce stress.
2. Feeling like a goldfish? Reading helps to improve your memory! Problem solved.
3. The brain is an amazingly unique organ as it functions more like a muscle and like all muscles they need regular exercising and stimulation. Picking up a book is the perfect gym session for your brain.
4. 'Knowledge itself is power'… a great way to increase knowledge is, you've guessed it, by reading
5. Get social! Indulging in a book and swimming in your own imagination is no doubt a private experience. But if you're a social creature and like sharing your thoughts, start up a book club!
Giving 'em away now…
Visited thestudiobirmingham? We have a mini book collection at our entrance, so help yourself on the way in or way out! We promote book crossing, so pass that little read along, don't worry about returning it.
Much loved literature…
A couple of the teams' top picks when it comes to books:
Prabjot – HARRY POTTER! Because it brought magic to life.
Jyoti – IT. I used to read a lot of Stephen King when I was younger, no wonder I'm a scaredy pants!