How well do you know Glasgow?
Posted on 08 July 2016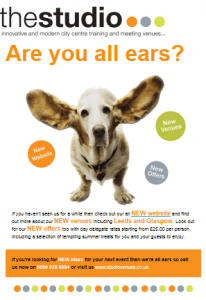 No longer a wee rumour,  thestudioglasgow is set to be unveiled later this year. So in the spirit of our new Scottish home, here are some things you may or may not have known about Glasgow!
• We all know New York is a 'hell of a town' but did you know that Glasgow has its own Statue of Liberty?!  Mounted on The City Chambers, the figure of Truth stands proud mirroring on a smaller scale its twin from across the pond.
• ET phone home…  Fortunately this transmission's origins were terrestrial; Scotland had its first taste of TV in the one and only Grand Central Hotel. A place familiar to thestudio team… Check out our Glasgow away day!
• Why the long face?  Home to the longest bar in Europe, measuring over a whopping 104ft, the bar stretched its way into the Guinness book of records… and rightly so! Aptly named the Horseshoe Bar.
• Did you know Glasgow has the fourth largest population within the UK ? That's a lot of Glaswegians!
• Third place to only London and Budapest, Glasgow owns the third oldest subway system in the world! Pretty impressive, and it's even got its own nickname: Clockwork Orange!
• If you love a bit of football trivia this is one for you… the first international match was held on 1872 in the land of kilts West of Scotland Cricket Club. Though the team weren't from too far afield: Scotland vs England!
• When it comes to law enforcement Glasgow was ahead of its time, having established their first police force  in 1789, 40 years before London! Thankfully no sign of Robocop yet.
• A holiday that is either avoided or celebrated by the masses, St. Valentine's Day is renowned for celebrating love. Funnily enough, this Saint's remains can be found in the Blessed St John Duns Scotus church in Glasgow!
Now we all know a little more about our new home. If you're curious about our new venue, stay in the loop on Facebook, LinkedIn or twitter! Have a lovely weekend all 😀