Life After Maternity…
Posted on 19 February 2020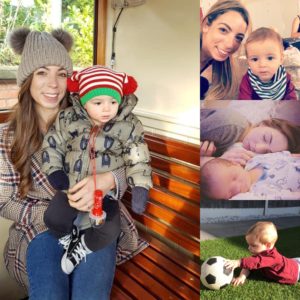 Nothing is more important than good people … maternity leave, flexible working and developing your own stars are what makes businesses great #GrowYourOwn
On this note, we could not be more delighted to welcome Katie back to the business from her maternity leave and to continue with us thestudio journey into the "roaring twenties".
Katie joined us our Special Events Manager in 2013 and progressed through the ranks, gaining experience and confidence to become our Assistant Sales Manager. Currently she's returned to a new position as a Training and Development Manager.
Katie is well and truly part of thestudio family, some of us were even there with her when she tied the knot in the Algarve, Portugal and then then were alongside when she shared the news of a much-wanted baby on the way!
It is such a sad statistic that a recent survey reveals that following maternity, less than a fifth of women feel confident to return to work after having a baby… shocking!
Maternity leave is seen as a problem to be solved and the focus is on covering the work rather than helping the mother navigate what can be a tricky period in what could be a long and successful career.
Pregnancy, maternity leave and the first few years of parenthood can all be tricky. But they are a tiny fraction of a career that could span 40 years or more. Investing time and energy in helping women – and men as they take paternity leave – to navigate this process has huge long-term benefits…People Management.
There was never a doubt for us at thestudio that Katie would not be an asset to our team and we set about to discuss and find a role that would suit not only her but would also be a benefit to our growing business needs.
We know Katie's key skills and how good she is with people and development, we also know she has a wealth of knowledge and experience to share and develop new people, so we are all very excited to welcome her to a new flexible position 3 days a week as our Training and Development Manager.
We wanted to know from Katie what was the key to an enjoyable and stress-free maternity leave, challenges in returning to work and was she looking forward to the most …
Mama's stick together!
Wow! I can't quite believe how fast my maternity leave went by. I have had the most amazing time with my little boy Joshua.
My #WednesdayWisdom for maternity leave would be, to get out and meet other mommies and their beautiful babies.
Join that club, go to that class, meet for that coffee.
Maternity leave can be a daunting and lonely place on your own. What I have learnt is that no matter what, new mamas have got each other's backs! It's rare that you can walk into a room full of people you don't know and instantly feel at ease. You are all in it together.
It has been so lovely to meet so many amazing women who have been on the same journey as me. We have spent days together sharing stories, advice or just listening and giving words of encouragement when they are needed. My maternity leave has been full to the brim of special moments with Joshua, new friendships (that felt like old friendships), day trips, giggles, caffeine…. Cake!
So, investigate where you can take your little one, not only will it be fantastic for their development, but the women you meet will lift you up when you are down and become your support network way past maternity leave.
When the time comes to think about going #backtowork, although its daunting and #momguilt kicks in immediately, I felt it was simply a case of thinking of it totally practically.
Can I afford to go back to work? Nursery fees, travel, parking…. will I have any money left over to contribute to the household? If I am going to spend that time away from my baby, am I doing something worthwhile?
I was so lucky to have an employer that fully supported me in my quest to return to work.
I am now returning to a new role, in a new department and a new team (eeek all new!) doing something that suits me and works for my new needs.
I miss my little Joshua so much on the days I am at work, but he is having an absolute ball at his nursery and with his Nana and I cherish the days I have with just him and me so much more now.