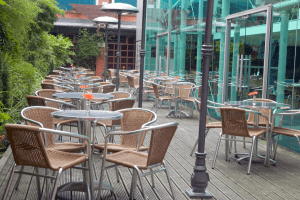 It's finally here, the British summer has decided to make an appearance halfway through the year. Better late than never we say! Before we strut our stuff in shorts and add cocktail umbrellas to all our cold drinks, there is one hurdle to jump…
We spend a good portion of our lives dedicated to our careers which usually means business attire! Whilst presentation is everything, being suited and booted often leads us to feeling hot under the collar. Despite retiring your blazer to your chair back, heat can be a problem.
So how would you keep your guests from falling asleep in your events? Read on for our top tips for keeping your team cool and engaged this summer!
1 – Feel that breeze! Let's be honest, no one wants to be confined to an office space for the whole day. Not much has changed from those long hot schooldays spent peering out the window wishing you were outside. That's why it's important to have the best of both worlds. Choose an event venue that offers an outdoor area where guests can stretch their legs and get that all important dose of vitamin D. It'll make a huge difference to their outlook and concentration.
2 – Avoid stuffy rooms… Open the windows! General ventilation is a blessing in hot weather conditions. Making sure there is a flow of air will have a significant effect on your guests' comfort. How to make sure the venue offers exactly what you need? Getting a first-hand perspective of what you've booked really helps, book in to visit the event space you've booked!
3 – Ice cream! Everyone loves surprises, especially ones involving food. Refresh your guests by treating them to ice cream. It's a great trick that'll offer some refuge from the heat and a much-needed sugar boost! Rest assured ice cream isn't the only option, how about: cool fruit kebabs, individual pots of sorbet, smoothies, jugs of iced tea or even hire in a Slushie machine! The possibilities are endless… Check with your events space what they could offer.
4 – Engage your guests… Visual, auditory, reading/writing, and kinesthetic, keeping different types of learners engaged in the baking heat is a challenge to say the least! Our solution? Try having ice breaker style activities dotted throughout your event. Three short 5 minute activities will help refocus your guests. Using lightly competitive games, quizzes or puzzles alongside your event topic will make the information more memorable. Alternatively, you could book an external company through your venue who offer fun team building exercises!
5 – Hydration breaks… We all respond to heat differently, some of us relish in the inferno whilst others recoil at the thought of being hot. One sure fire way to douse that flame is to incorporate hydration breaks into your event. These little breathers will help the day keep pace and allows each individual to regulate their own body temperature. After-all, water is the elixir of life!
We hope our summer suggestions will help you in your events. Tweet us your cool ideas @studiovenues.
Written by: Jyoti Banga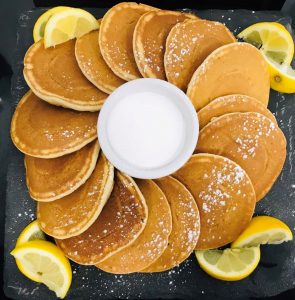 To "give up" – cease making an effort; admit defeat.
Those who have stepped into any one of our four venues or met any of our team will know that "giving up" is not a phrase we like to take lightly here at thestudio. We make every effort to not view any task as too big, just a new challenge to embrace… However, at this time of year giving up is given a whole new meaning, with some doing it for different reasons to others…
Lent…
Lent is a 40-day period taking place around Easter, starting this year from the 6th March and ending on the 18th April. This is a Christian celebration, followers will fast from food and festivities to recreate the sacrifice of Jesus and time in the dessert.
Only a small amount of people now fast for the whole 40 days, instead some choose a favourite snack or bad habit to refrain from during this time. We all like to test our will power from time to time!
Indulge yourself…
Returning visitors will know we don't like to hold back in feeding up our guests with a sweet treat here and there. We have even more opportunity to do just that recently, as today we have put out our pancake stations with the pick of your favourite toppings.
Our Spring treats also kick off to a flying start this week including a choice of Victoria sponge cakes, chocolate mini eggs and delicious hot toasted hot cross buns…
We have also made sure to include some little less indulgent treats; our bircher our pots and freshly sliced fruit platters.
I'd give up cake, but I'm no quitter …
Its been fascinating to find out what some of our team are going to try to "give up" for the next 40 days …
• Our Sales Director Oli wants to give up beer (and as he says now it's written in black and white there's no going back!)
• Our Sales & Revenue Manager Mandy is vowing to give up bread, saying she would happily eat it with every meal! However, she is going on holiday in the middle so may have a cheeky cheat day now and then…
• One of our Co-founders Emma, said she is going to give up Kale, she likes it a lot, but thinks she should be able to live without it until Easter Sunday !!
Let there be light…
Whether you choose to take part in Lent or not, in Old English the word means 'lengthen' reminding us that this time of year also means longer days. Hallelujah!
Written by: Rachel Robinson
Edited by: Emma Jennings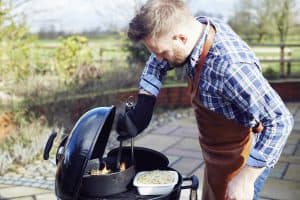 We've all experienced it. Gone to a disappointing BBQ where there were no welcome drinks, blackened burgers easily mistaken for coal and baps soggier than the British weather…
Thankfully we're here to make sure, come rain or shine, that your BBQ's are the best on the block! Be warned, intoxicated passers-by might want an invite!
Rock your grill with our top 5 sure-fire ways to organise and host the best BBQ ever…
1. Imagine being welcomed into a party where there was a fancy drinks station covering options from water to punch and another table filled with mouth-watering dips, crisps, crackers and only the best crudities… sounds dreamy. Having a drinks and nibbles station is the way to go in making a great first impression. Plus, it helps ease the pressure off having to slave away on the barbie straight away.
2. Sleep on it! Create out of this world flavours by marinating your fan favourite meats and veggies then leaving them to soak in the night before = winner.(As long as you don't burn them of course!). Tease and tantalise your guests taste buds with adventurous spice blends. We've got a few in our cookbook, have you had a thumb through yet?
3. Finishing touches… compliment fiery, sweet and smoky barbecue flavours with sensationally seasoned salads and side dishes. These can be prepared in advance and assembled at the last minute to give you the ultimate title of being The Host with the Most!
4. Have the element of surprise by wowing your guests with sweet treats. Ever tried flame grilled pineapple kebabs? Delicious! How about a hot banana Sunday? The possibilities are endless…
5. Mood maker… set the feel of your event and say no to awkward silences by playing fun background music, it's a brilliant ice breaker. Remember atmosphere is everything!
Bonus tip from our Grill Master Richard Holden:
"Use the lid and master the art of grilling vs. roasting on your barbecue. Closing the lid will surround your food with heat and cook it quicker than on an open grill. Start foods over the heat to achieve those gorgeous caramelisation marks before moving to an area of roasting heat to cook through thoroughly. I always use a digital thermometer to check my food is safely cooked before serving to guests and my golden rule is "75 – Stayin' Alive!" The core of your food should be 75c in order that it's safe to eat."
Now you're on the road to becoming a barbecue master! Interested in having an expert Richard Holden show you a thing or two? Feel free to ask our team or click here…
Happy hosting from thestudio, you'll most likely catch us basking on our roof terraces!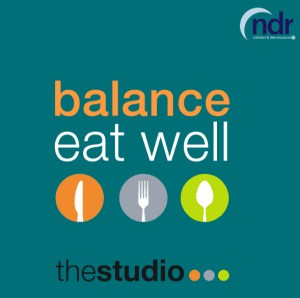 It's heating up at thestudio this May as we've got some exciting news to share! Our cookbook BALANCE has arrived in all of our venues and is rammed with over 60 healthy recipes!
The book fits perfectly with our food philosophy, an affordable but beautiful book that has been created in response to the amount times we have heard "lunch was delicious" can you ask the chef for the recipe!
But here's a few things you might not have known about our little book of BALANCE …
Not for profit…
That's right, this little number is a not for profit book! All the proceeds go directly to supporting the Nutrition & Diet Resource UK a not for profit organisation for patient centred care working in the public and private sector. It really is all about the food and promoting healthy balanced diets!
Daily dine…
If you've attended, are going to attend or actually are at thestudio this very moment, chances are you'll be lunching on one of the recipes from "Balance"! With over 60 fresh, exciting and inspired dishes that have all appeared on our menus at some point, you won't be short of combinations to choose from. Aside from an undeniably delicious afternoon break, it's serves as the perfect time to show guests what thestudio's made of!
Swapsies…
Things are better when everyone can enjoy them, that's why on a lot of our recipes, whether it's for ethical or health reasons, we've highlighted ingredients within the recipes that can swapped to suit your dietary needs. Balance has a section dedicated to adapting to special diets from veganism to gluten free… we've got a dish for you!

Hats off to the chef…
Compliments were driving force behind the whole idea, each location chef has been involved in the creation of the book, thestudio thought it would be great to give something back to the guests who love their food, offering up the opportunity to impress their friends and family with some tasty dishes. All of this whilst contributing to the bigger picture.
Nutrition is the key …
All the recipes have been analysed by Nutritics software, so you can be assured (if you can stick to just one portion!) of the energy, fat, carbohydrate, protein and salt content in each dish.
We'd love to hear about your favourite foodie experience at our venues, tweet @studiovenues your favourite dishes and remember, if you'd like to find out more, we're just a fork call away…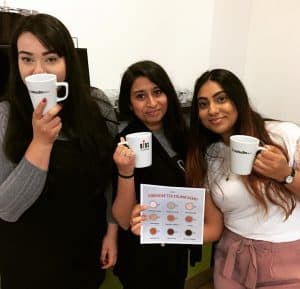 What's that sound?
The melody of excited whistling kettles and the magical chiming of swirling spoons fills the air… It's time to make some music… Let's stick on a brew and make a song & dance about Tea! That's right, it's National Tea Day.
Hi Chai…
Us Brits are well known for being avid tea drinkers, whether it's enjoying an afternoon filled with cakes and bite sized sandwiches or nuzzling into a fluffy blanket on a cold day, everything seems so much brighter accompanied by a good cuppa.
We've been drinking tea for centuries! Did you know the earliest record of sipping this humble leaf originated in 3rd century China? It's no wonder this lovely leaf has achieved, quite frankly, world domination. With almost an infinite variety of blends, infusions and combinations, this once mainly medicinal potion has expanded its branches and planted obsession into hearts all over the world.
Hot or cold, this delicious drink comes with a whole heap of impressive health benefits: antioxidants, bone protection, boosting your immune system… just to name a few!
Milk and two sugars…
Making tea is a serious business. It's the ultimate challenge in timing and ratio skills, a touch too much milk or leaving the bag in can really dictate if the mug you made with love gets left untouched… To make absolutely certain this never happens, thestudio team have a tea chart in their office highlighting acceptable shades of tea!
Can't tell your tea cups to your tea pots? Help is at hand! Get your skills up to scratch by clicking here… A sure fire way to win the hearts of everyone in the office. (p.s don't forget to bring some cake to sweeten the deal).
Mug to glug…
@thestudio nothing can beat a good cuppa. Whether you're a health enthusiast or just need a morning 'pick me up', from energetic green tea, a good ol' Tetley or a soothing Earl Grey… we'll have your tea needs covered!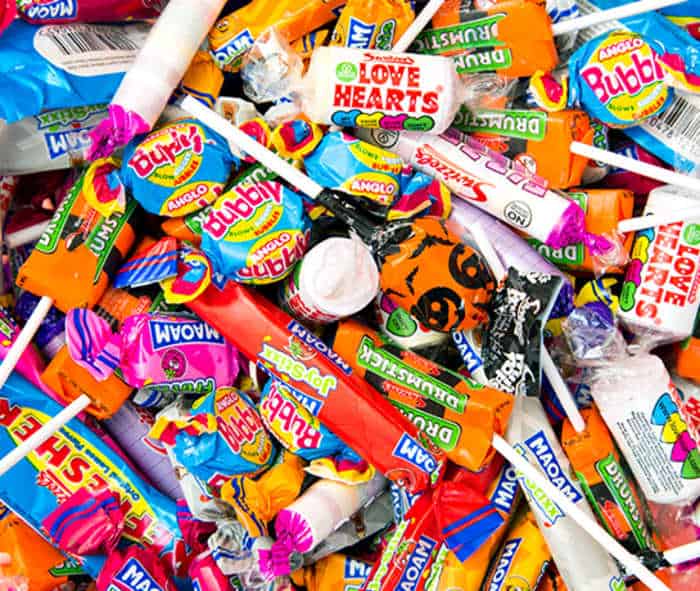 It's no doubt we like to feel good. Afloat with warm fuzzy feelings, our moral compass points us to do what we feel is right and encourages us to go above and beyond. Kindness is a definite strength, having the courage to dish out positive reinforcement or offer a helping hand are admirable traits! That's why we just had to shout about Random Acts of Kindness Day.
Conferencing and kindness…
Forget the add ons, don't you just love it when a venue or hotel just puts that little extra effort in to make you feel welcome and appreciated? Whether it's a complimentary map of the city, on the house welcome drinks or a treat on your pillow, it's totally brilliant to feel thought about. Here at thestudio we have TNT's. Tiny noticeable things which make a positive explosive impact! We're always thinking of ingenious ways to make our guests feel more at home. Just remember, if it's raining and you need some cover, help yourself to a studio brolly!
Check out the teams most memorable random acts of kindness experiences:
Prabjot: Philpotts! Even if it's been months they always remember my breakfast order!
Jyoti: I'm a fiend for Fuel drinks, the team there know my order so as so as they see me coming they get a making! I don't have to wait long for my drink and always have a friendly catch up while I'm there.
Katie: Our team member Karolina! She always surprises us with gifts from cute personalised Christmas cards to chocolate treats, she's bursting full of random acts of kindness. Lovely lady!
Brighten someone's day today with a random act of kindness and if you can think of anything that would make your stay at thestudio even better, we're always open for suggestions…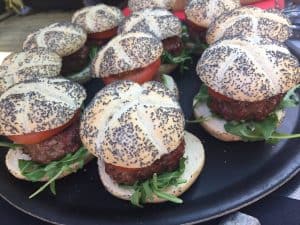 What's smoking hot @thestudio?
Blazing sun, clear skies, hot weather, shades… Yes the long awaited British summer is here! And what a better way to celebrate than a classy BBQ. We humans are a social bunch, loving any old excuse for a get together and with the sun high in the sky, what a better opportunity?
Individually we're brilliantly unique but together, together we're unstoppable. That's why we love rounding up our team for a quarterly get-together. Being on the same page doesn't have to be all doom and gloom with monotonous meetings. Spicing things up with a fun, relaxed event does wonders when it comes to team bonding. Plus, you know that age old saying to get to someone's hear you have to go through their stomach!
No case without a showcase…
We're really looking forward to the season of BBQ's and great weather. So much so we'd like to add a bit of pizazz to your reunions by offering a smoking hot team building session in Birmingham and Manchester. Running from July to August, catch up with your crew over some delicious food!
Under the watchful eye of BBQ extraordinaire Richard Holden, your crew can enjoy a tailor made bespoke grilling master class. That's not all, whilst looking forward to this creative lunch, we include the use of a main meeting room, unlimited tea, coffee and snacks throughout the day.
Ideal for 10-20 guests wanting to live it up in the sun, in just a few hours you'll experience a 2 course menu of a starter and a main course, BBQ skills on show, tips on grilling and roasting, how to make pioneering pesto, saucy marinades, homemade pizza dough plus choosing and cooking the perfect steak! With a variety of activity packages starting from £50+vat pp for 3-6 hour sessions, looks like the only thing you'll need is some shades and sun cream!
*Minimum numbers for any course are 10, increasing to a maximum of 20 per session. The above is subject to availability, to make an enquiry contact thestudio team on 0800 028 6694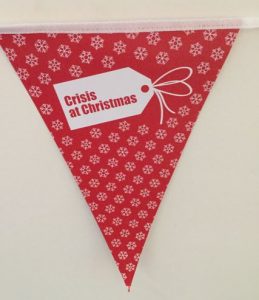 Christmas is undoubtedly the ultimate season of giving. It's a time where even the most cold hearted of characters are sprung to life with a sprinkle of
Christmas spirit
. The sight of people scattering, frantically buying and wrapping presents comes with the season, but here at
thestudio
we recognise the most precious gift you can give someone is your time.
Teaming up with
CRISIS
Birmingham we've taken up the opportunity to give something back to this great city. Opening our doors for two days in the run up to Christmas,
CRISIS
have hosted a free drop in centre offering advice and support as well as medical and rejuvenating treatments, such as haircuts, facials, pedicures and manicures.
All treatments were provided by local volunteers and supported by the
CRISIS
team. 
thestudio
dedicated one of our largest rooms and most importantly lunch! Being the massive foodies that we are, it would be sacrilege to not offer up delicious
turkey and stuffing baps
with an equally appetizing vegetarian option of falafel to all that joined us, along with copious cups of hot drinks to warm the toes and the soul. To top off the festivities was a live band, again from willing volunteers to offer some
festive cheer
.
At the end of each year we are reminded that it is important to give, that the most valuable things in this life cannot be bought and if
Evan Almighty
has taught us anything;
one random act of kindness
can make someone's day. We can't change the world, but every little thing does make a difference to someone, please just be kind.
To everyone, we wish you a Merry Christmas and a Happy New Year from
thestudio
.
On the twelfth day of Christmas
my true love sent to me:
12 Drummers Drumming
Eleven Pipers Piping
Ten Lords a Leaping
Nine Ladies Dancing
Eight Maids a Milking
Seven Swans a Swimming
Six Geese a Laying
Five Golden Rings
Four Calling Birds
Three French Hens
Two Turtle Doves
and a Partridge in a Pear Tree
Your wish list may not be as long as this but did you know it's less than 12 days to Christmas! With not long to go, we thought it was the perfect opportunity to wrap up 2016 with our quarterly team meeting.
We value team bonding and the effort everyone makes to attend thestudio forum is phenomenal, Gillian even flew in from Glasgow! Our forums present a space where our tight knit team can freely discuss ways to develop in 2017, pledging to continually support each other across departments all whilst enjoying a cheeky glass of mulled wine and the odd mince pie.
Home Alone…
This year we opted to stay within our venue. Being firm believers that a change of scenery can truly inspire you, we transformed the Atrium into a Lapland wonderland filled with the usual suspects (Christmas tree, fairy lights) but with a few extra surprises!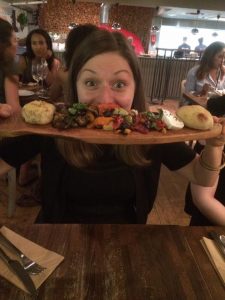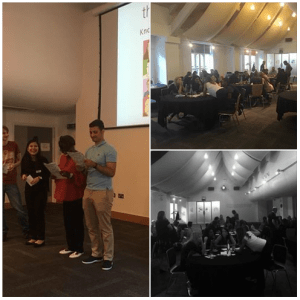 We all can relate to the importance of a get together, be it family or friends. But for a lot of organisations, including ourselves, we see the value in getting our
studio
team together. So last Wednesday, we did just that! With a handful of new
studio
family members and a
new venue
on the ever brightening horizon, our quarterly round up couldn't have been timed better! Check out what we got up to…
We learn…
To kick off the session the team were presented with all things studio from none other than our
delightful directors
. Could you have guessed we're forecasted to have had a
whopping 137,000 customers
by the end of this year! Now that's a big number!
We explore…
Let's face it, self-introductions are always a bit awkward, especially if you're new. So it was time to call in the big guns… an ice breaker to the rescue! Partnered randomly with someone we may have not worked with directly, we were left to our own devices to find out
3 interesting facts
about each other. From missing bones to filming the
Duke of Edinburgh
, these 'on behalf of' introductions were both insightful and hilarious!
We achieve…
Keeping the team amused and engaged after a hard days' work was high on the cards. With a studio themed pop quiz distributed and the fire of friendly competition raging in our bellies, we had an all-out battle to see who knew the most about our past, present and future! Team Mixed Bag took the title of studio encyclopaedia, closely followed by Just here for the Pizza.
We connect…
As the night drew to a close, there was only one thing that could solidify our
bond
further: pizza. So it was off to
Zizzi's in the Mailbox
(who have a deliciously diverse menu!).